The Configurations of large transport aircraft: prospect and problems
Keywords:
aircraft, freighter, cargo transportation, fuel efficiency, design
Abstract
Abstract – This paper discusses about problems of possible development of dedicated, high capacity, large civilian freighter aircraft.
The main disadvantages of currently operating air transport are discussed. The flight performance of proposed dedicated cargo aircraft with 120 tonnes payload capacity is compared with existing converted freighter aircrafts Boeing 747-200F and Antonov 124 (Ruslan). A wide range of values of payload and flight range are studied to get the better results from parametric research. An assessment of flight performance and economical features are evaluated by three criteria: weight efficiency, fuel efficiency and transportation cost.
References
[Online]. World Air Cargo Forecast 2020-2039. The Boeing Company. Executive Summary. Available: https://www.boeing.com/resources/boeingdotcom/market/assets/downloads/ (accessed on 16 September 2021)
Hepperle M., HeinzeW. Future Global Range Transport Aircraft. RTO-Symposium on Unconventional Vehicles and Emerging Technologies. Bruxelles, 2003.
McMasters J.H., Kroo I.M. Advanced configurations for very large transport airplanes. Journal of Airplane Design. 1998, pp. 217-242.
Sultanov A.H. et al. Conceptual design of special longhaul cargo aircrafts. International Conference on 100th year of establishment of Russian Air Forces. October 17, 2012, Moscow State Technical University of Bauman, Moscow, Russia.
Sultanov A.H. et al. On estimation of technical and economic performance capabilities of special long-haul cargo airplanes. Domestic Conference: "Present Problems of Aeronautical Science and Technology". 2013, Tashkent State Technical University, Tashkent, Uzbekistan
Sultanov A.H. et al. Conceptual design of future cargo airplanes (in Russian). Journal: Problems in Mechanics, Academy of science, Uzbekistan. №1, Tashkent, 2009
Sultanov A.H. et al. National patent registration number № FAR 00546. Patent office of the Republic of Uzbekistan. 28 June 2010
Sultanov A.H., Azamatov A.I. A problem of increasing the transport efficiency of air transportation (in Russian). Journal: Proceedings of Higher Education Institutes. Uzbekistan. Tashkent. 2005. Vol. Engineering 1-2, pp. 33
[Online]. Available: https://www.aerotime.aero/23048- the-future-aircraft (accessed on 16 September 2021)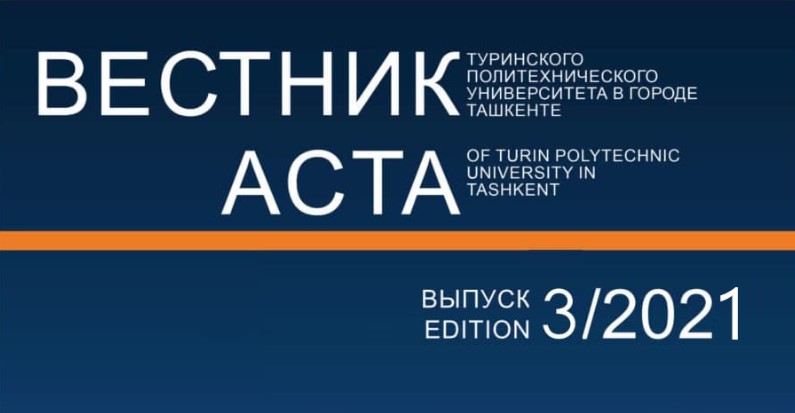 Downloads
How to Cite
Azamatov, A., Rakhimqoriev, K. ., Aliakbarov, D., & Nabijonov, A. (2021). The Configurations of large transport aircraft: prospect and problems. Acta of Turin Polytechnic University in Tashkent, 11(3), 41–47. Retrieved from https://acta.polito.uz/index.php/journal/article/view/68
Section
Technical Science and Engineering